Pilates for Every Body, with Kate Thompson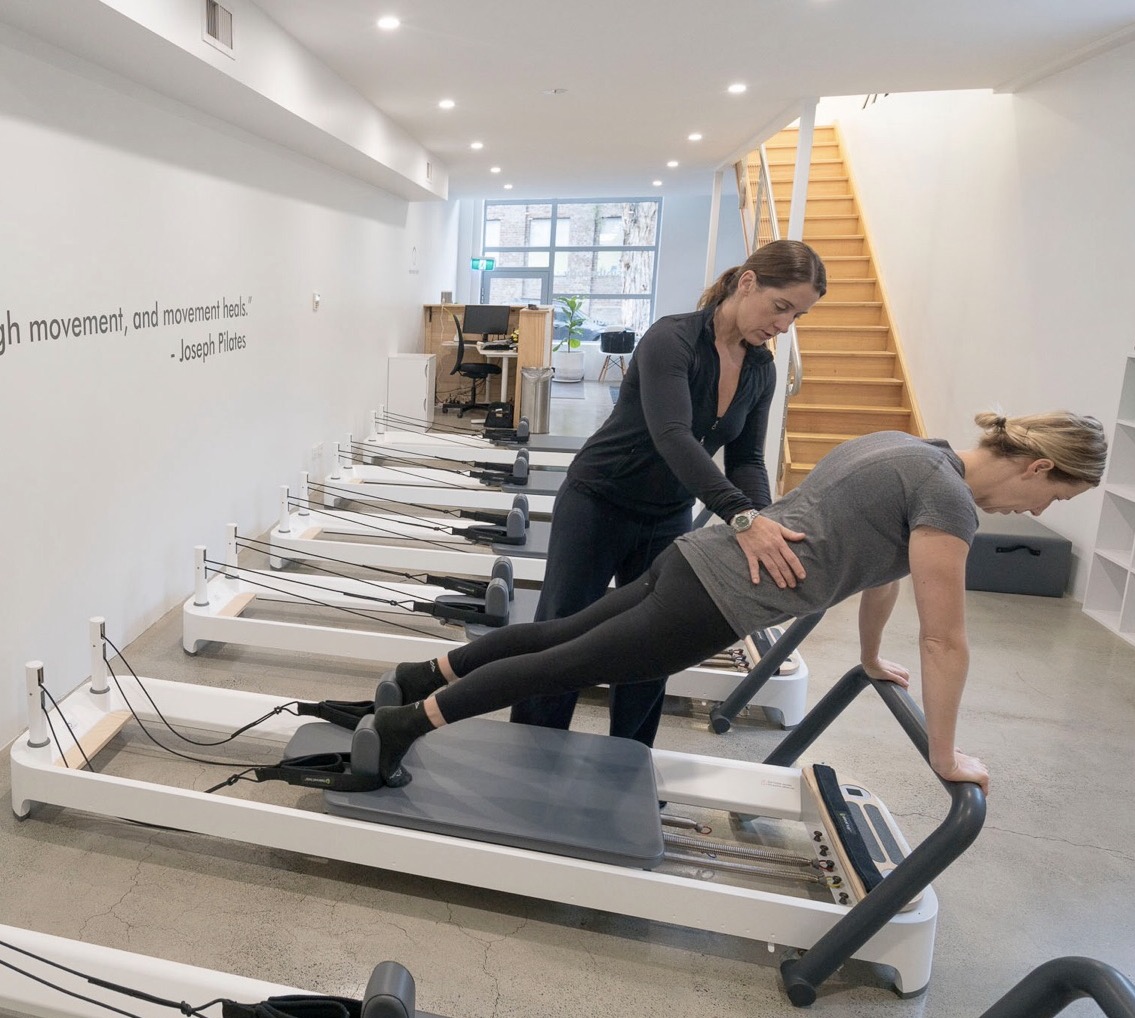 We've recently launched our reformer Pilates studio and are thrilled to have the experience, knowledge and energy of Kate Thompson on our team of instructors. We spent some time talking to Kate about lots of different things, from why Pilates is for every body to how she helped an 80 year-old woman return to the ski slopes of the French Alps. Enjoy!
You have a 20-year history with Pilates…where did it all start?
My experience with Pilates started as a professional dancer. I found myself getting injured quite often and was sent off to do some one-on-one Pilates classes. In that respect, I was introduced to it from a rehabilitation perspective, specifically for a back injury. After that calmed down, I kept it up as I realised it was an amazing way to reprogram my body and make sure I was switching on the right muscles, which in turn helped my dancing. Years later I was talking to a gym instructor who suggested I think about teaching and I agreed. So I did my Stott certificate, jumped straight into it and haven't looked back. Over the years my interest has focussed on body mechanics and functionality. I have learned from experience how retraining a body can help to shift bad habits, flow into better posture and other activities of everyday life.
What is it that you love so much about teaching Pilates?
I love the responses I get from my clients, especially when it goes beyond training and exercise and into a "this has changed my life!" reaction. I believe Pilates is about getting more out of your body and I love helping people improve and create change. It so amazing when people come up to me after a class because something I've said, and it might be as simple as a single cue, has completely changed their perspective on their bodies and how they move. That really fills up my cup and feels so satisfying. When I started teaching, Pilates wasn't considered mainstream exercise and most people didn't know very much about it, so to see people being blown away by how it can help them is incredible. The body awareness that comes from Pilates is something special and while it might take a few sessions for people to get it, when they do that moment is such an awesome feeling.
It can be a bit scary for beginners though, right?
Yes, but everything is a bit scary the first time you try it, and liberating too! The core Pilates principles, such as finding neutral, can be a bit overwhelming for beginners but that's why I'm here, to ensure that you're not going to hurt yourself and that you can practice in a safe environment. It's not the end of the world if you don't master your breathing or posture the first time. You'll get the hang of it after a few classes and it's the process of learning the principals of Pilates that allows your practice to grow. It also helps to have a goal of picking up one new thing each class. You should always feel like you can come and talk to your instructors before or after class and ask about anything you're unsure of.
…and what about these reformer beds?
The reformers have a lot of moving parts and so there's more to think about than in mat Pilates. That's why we run Beginners classes, so you can start from there and then it's a case of building up your form and ability. Before your first class we will do a walk through of the reformers so you understand exactly how they work. Rest assured that you'll be looked after and our classes at move physio pilates are small and bespoke, so you'll have eyes on you all the time and get plenty of personal attention. We can modify and support you through your first few sessions and we'll be the first to give you a high five at the end of that first class!
How do you see the role of Pilates for people who are trying to get back from injury?
Pilates is not only a strengthening and stabilising form of training, but also a rehabilitation one. Pilates doesn't let you cheat and it's a system where you're training your body in a very balanced way. What you're doing is rebalancing your body and preventing it from compensating and building up unhealthy movement patterns. When injured, you can pick up bad habits to avoid pain, discomfort or weakness so when you start Pilates, we are working the whole body as a structure. As we see you moving it becomes obvious how your body has been protecting itself from the injury, so then we go about retraining that part of the body. You'll build muscle over time so it's a training tool as well as a rehabilitation tool. You'll get a good workout so it's a bit more exciting than doing simple exercises in your lounge room. In that respect, there's a mental side to it too. When you're injured it's common to wonder, "Is this my new normal?" and it's easy to get down by that. So we get those happy hormones going as well as retraining your body... its win-win.
So it sounds like Pilates really is for everyone, regardless of age or ability or injury. What's been one of your favourite experiences so far?
I have an amazing 80-year-old client who had a fall whilst skiing and badly injured her ankle, knee and shoulder. Her body was physically a mess and her doctors told her that she wouldn't regain much in the way of mobility or function given her age, but she refused to believe that. She had a goal of hiking in Rwanda to see the gorillas and worked with me 1-2 times per week for 4 months. At the end of that stint she made it to Rwanda and saw the gorillas in the wild. She returned and set a new goal to go skiing at Courchevel in the French Alps, which I helped her work towards with very specific training methods. A few months later she sent me a photo from the summit! She is one of the most inspirational women I have ever met.
Something for us all to aspire to. Thanks for your time Kate!